Virtual dialogue on responses to NCDs in the Eastern Mediterranean region, 22 June 2021

Virtual dialogue on responses to NCDs in the Eastern Mediterranean region meeting
on Tuesday 22 June 2021 | 3:00 p.m. – 5:00 p.m. (CEST)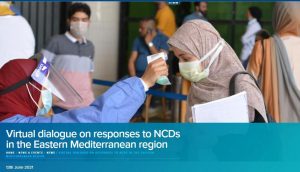 NCD Alliance will be hosting the last of our regional multistakeholder dialogues 'Inspiring Change, Putting People First: Shaping Responsive Health Systems for people living with NCDs in the COVID-19 era'. On this occassion, will be focusing the discussion on NCD responses in the Eastern Mediterranean Region. This virtual dialogue is open to all!
Delivering people-centred healthcare is widely recognised as a core aim of health systems around the world. Given the impact of COVID-19, there is growing recognition that prevention and health delivery models need to be driven by the needs of affected populations and acknowledge the value of lived experiences.  This event will take stock of the current status of progress on noncommunicable diseases (NCDs) and Universal Health Coverage (UHC) in the Eastern Mediterranean region and region-specific gaps, opportunities, and good practice to accelerate efforts on NCDs. Discussions made on the day will also feed into a broad consultative process that will contribute towards a Global Charter on Meaningful Involvement of People Living with NCDs.
The Eastern Mediterranean joint regional dialogue, held with the support of Novo Nordisk is the last in a series of dialogues that have taken place in all World Health Organization (WHO) regions.
This event will be simultaneously translated from English to Arabic.
Tuesday 22 June 2021 | 3:00 p.m. – 5:00 p.m. CEST. Register here!
Speakers include:
Dr Zied Mhirsi, Co-Chair of the Centre for Public Health, Tunisia
Professor of Public Health – Special Envoy of WHO Director – General on COVID19, Egypt
Mr Omar Abu Reesh, Person with Lived Experience, Jordan
Dr Asmus Hammerich, Director, Noncommunicable Diseases and Mental Health, WHO EMRO
Dr Ibtihal Fadhil, Founder and Chairperson, Eastern Mediterranean NCD Alliance
Dr Claudia Truppa, Health Coordinator, International Committee of the Red Cross, Lebanon
Mr Khurram Hashmi, Technical Advisor, The Union, Pakistan
Dr Maihan Abdullah, Consultant, Deutsche Gesellschaft für Internationale Zusammenarbeit (GIZ), Afghanistan
more information and registration.
https://ncdalliance.org/news-events/news/virtual-dialogue-on-responses-to-ncds-in-the-eastern-mediterranean-region