Management of Breast & Colorectal Cancer Kuwait Conference: Recent Updates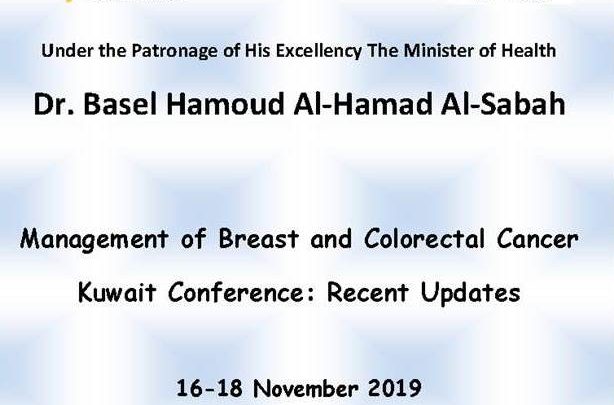 Invitation
It is a great pleasure and privilege to invite you to our Management of Breast & Colorectal Cancer Kuwait Conference – Recent Updates, will be held in KUWAIT on 16-18 of November 2019.
The purpose of this 3-days conference is to provide a forum for update information on a broad range of topics covering medicine, its therapies, current guidelines and clinical research, as well as fundamental background studies. This international conference will be attended by physicians, pharmacists, nurses, psychologists, social workers, dietitian, physiotherapist, other health care professionals and interested parties from all over Kuwait and other countries.
This conference will enable the exchange of ideas and knowledge between the different disciplines for facilitating research and clinical interdisciplinary collaborations focusing on recently updated managements of Breast and colorectal cancer.
Conference Participants
Invited in this conference are oncologists, psychologists, social workers, specialists in health care systems and education, nutrition, media and those interested in the field of education affiliated with non-profit organizations and relevant government institutions.
Vision
Our vision is to institutionalize the management of patients with progressive life-limiting conditions such as advanced malignancy, to correct and improve public perception of the importance of integrating quality care in the management of the aged, sick and hopeless patients to alleviate their symptoms and decrease their sufferings and to improve their quality of life.
OBJECTIVES
1. To host a forum for oncologists, scientists, experts and cancer professionals who are experienced in the field of Breast & Colorectal cancer management and to review the success and failures at the local, regional and international levels.
2. To highlight evidence-based information on cancer incidence and survival rates.
3. To Exchange experiences with global, regional and local organizations in the treatment and management of Breast and colorectal cancer.
Abstract Submission
Interested participants are encouraged to prepare their abstracts and submit their papers and researches on any topic relating to the objectives of this conference. Deadline for abstract submission is 31st of July 2019 midnight by GMT.
Languages of the Conference
English
Inquiries
On behalf of the organizing committee of the conference and correspondence regarding the conference shall be addressed to:
Dr. Khaled Ahmed AlSaleh
Chairman of Conference
Endorsed by
Conference Secretariat
Radiation Oncology Department office
Kuwait Cancer Control Center
State of Kuwait
Tel: 0096522513067
Fax: 0096522510137
Emails: